St. Pete Fishing Charters will put you in the heart of one of the top fisheries in the state.
The pristine waters of St. Petersburg, Florida, teem with an abundance of marine life and offer some of the best inshore fishing experiences in the world.
If you're looking for an unforgettable fishing trip, look no further than these expert-led charters.
With St. Pete Fishing Charters at your disposal, you're set for a unique encounter with Tampa Bay's most sought-after species – like never before.
Discovering St. Pete Fishing Charters
The picturesque city of St. Petersburg, Florida, or as locals affectionately call it – St. Pete, is a paradise for fishing enthusiasts from all over the globe.
This makes every single fishing trip unique and exciting due to the diverse marine life found here.
A Prime Location For Anglers:
Located on Florida's Gulf Coast with Tampa Bay's extensive open-water estuary system nearby, St. Pete provides anglers access to different environments suitable for various types of fishing trips, including flats/inshore, nearshore, tarpon or offshore.
Not only are there game fish species such as tarpon (known locally as 'silver king'), snook, or spotted seatrout available, but you may also encounter other interesting creatures like dolphins or manatees during your charter expedition around this beautiful area often referred to simply by residents as "The Bay."
Taking Kids Fishing: A Child-Friendly Excursion
Beyond providing thrilling experiences for seasoned pros, charters here also cater to families looking to take kids fishing, which can be both an educational and fun-filled adventure they'll remember forever.
Pick Your Charter Wisely:
Charter cost should not be the only factor when choosing the right service provider, but rather consider factors like safety measures taken onboard vessels along with the captain's knowledge about local waterways and species available there, plus the flexibility offered regarding the duration/type of charter that would best suit your needs/preferences, etc…
Whether you're a novice angler trying your hand for the first time or an experienced pro seeking new challenges, rest assured knowing each trip is tailored according to individual skill levels, ensuring everyone on board has a memorable time catching some big ones under the guidance of expert crew members who know exactly where to go to get those lines tight.
Dive into the diverse marine life of St. Pete, Florida – a paradise for fishing enthusiasts worldwide. From inshore flats to offshore adventures, encounter game fish and dolphins alike. Whether you're an angling pro or a novice taking your kids on their first fishing trip, choose your charter wisely, considering safety measures and the captain's expertise.
Meet the Captains: Local Experts Leading Your Adventure
The St. Pete fishing charters are led by experienced captains whose knowledge of Tampa Bay's waters is unparalleled.
Captain Brett's Rock Bottom Sportfishing
A prominent figure in this field is Captain Brett from Rock Bottom Sportfishing. His years of experience have given him an exceptional ability to find the best fishing spots around the St. Petersburg, Florida area.
Brett offers a variety of charter options, including inshore, nearshore, and tarpon trips. His considerable expertise in these differing habitats guarantees that you will have a fruitful outing on the water, whether it is your first time taking children fishing or if you are an experienced fisher searching for new tests.
Capt. Brandon Corwin
Another compelling choice is Captain Brandon Corwin. As someone who has lived and breathed the local waters, he possesses unique insights into seasonal fish movements, making every trip under his guidance truly special.
No matter what kind of adventure you seek – whether it's something relaxing like a child-friendly excursion or more thrilling such as a sport-fishing expedition – Brandon customizes each charter, ensuring maximum enjoyment and satisfaction for all participants.
Get hooked on St. Pete fishing charters led by seasoned captains like Brett and Brandon, who know the Tampa Bay waters like the back of their hands. Choose a charter that suits your style, book easily online, and get ready for an unforgettable fishing adventure.
Types of Fishing Charters Available in St. Pete
In the abundant waters surrounding St. Petersburg, Florida, a variety of fishing charters are at your disposal to cater to every angler's desires and preferences.
Inshore Fishing
An inshore fishing trip is typically an adventure through shallow waterways near land. These expeditions often target species such as redfish, trout, snook, and flounder that flourish within these habitats.
The experience combines tranquility with excitement – calm water conditions fused with the thrill of reeling in game fish. Regardless if you're a seasoned pro or just dipping your toes into this hobby, there's something for everyone on an Inshore charter around the Tampa Bay area.
Nearshore Fishing
Venturing slightly further from shore unveils new opportunities for anglers aboard. Nearshore charters off St. Pete Beach where encounters await with larger marine life like kingfish, mackerel, and grouper, among others.
A Nearshore expedition provides a harmonious blend between deep-sea adventures and coastal exploration – perfect if you seek diversity during your time at sea.
Tarpon Fishing
If adrenaline-fueled action calls to you, then tarpon fishing might be right up your alley. Known as the 'Silver King,' tarpon is considered one of the ultimate sport fish. These powerful fish can reach up to 6 feet in length and weigh over 200 pounds, putting up a fight that can last for hours. Tarpon are known for leaping out of the water and shaking their head, making for a thrilling battle.
Best Times to Catch Popular Fish Species
If you're planning a fishing trip in St. Petersburg, Florida, it's crucial to know when the fish are biting. Different species have their own peak seasons, and knowing these can greatly enhance your chances of reeling in a big one.
Catching Kingfish: The Silver Speedsters
The kingfish or king mackerel is an angler's dream due to its size and fighting spirit. In Tampa Bay waters around St. Pete, the best time for catching this speedster is in the late spring, with another shorter season in the early fall.
Tarpon Time: Battle With The Silver Kings
Tarpon fishing, known as "the silver kings" of sportfishing, offers anglers adrenaline-pumping fights against these powerful creatures. The prime tarpon season in Tampa Bay runs from May through late July each year – mark those calendars.
Snook Season: Local Favorites on the Line
In the 33713 area code encompassing parts of downtown St. Petersburg, FL, snook reigns supreme among local favorites due to its fight and rewarding catches once landed successfully. Snook has two main active periods here – spring (February-April) and fall (September-November).
Now that we've covered some popular picks, let's dive into other potential targets throughout different times within our calendar.
Grouper
Fancy landing a heavyweight grouper? Your charter would suggest winter months when cooler water temperatures drive them closer towards nearshore areas, making them easier targets during your charter adventure.
Mangrove Snapper
Mangrove snappers offer great action, especially during the summer months (June-August). Larger versions arrive in deeper channels during the fall. Not only do they put up a fun fight, but they also provide excellent table fare too.
Remember, patience remains a key aspect of any form of successful fishing experience, regardless of whether you're a novice or a seasoned pro. Understanding the right timing helps increase odds favorably.
Planning your St. Pete fishing adventure? Remember, timing is everything. Kingfish are abundant in spring and fall, while Tarpon thrive in May through late July. Snook peaks during spring and fall seasons, Grouper prefers the winter chill, and Mangrove snappers love summer's heat, with their larger counterparts arriving in Fall. Patience plus knowledge equals a fruitful catch.
Choosing a Suitable Charter Package
The right fishing charter package can transform your St. Pete fishing trip into an unforgettable adventure. Here's how to match your expectations with the perfect option.
Understand what different charters bring to the table. Take Non Stop Fishing Charters, for instance, we offer tailored packages that cater to both beginners and experienced anglers alike.
Inshore and Nearshore Packages: A Closer Encounter
If you prefer serene waters close to land, consider inshore or nearshore packages. These shorter trips are great for fishermen of all levels or those who enjoy peaceful angling experiences while taking in stunning views of the St. Petersburg, Florida coastline.
You'll have opportunities to catch species like redfish, snook, trout, among others – all within reach from shore.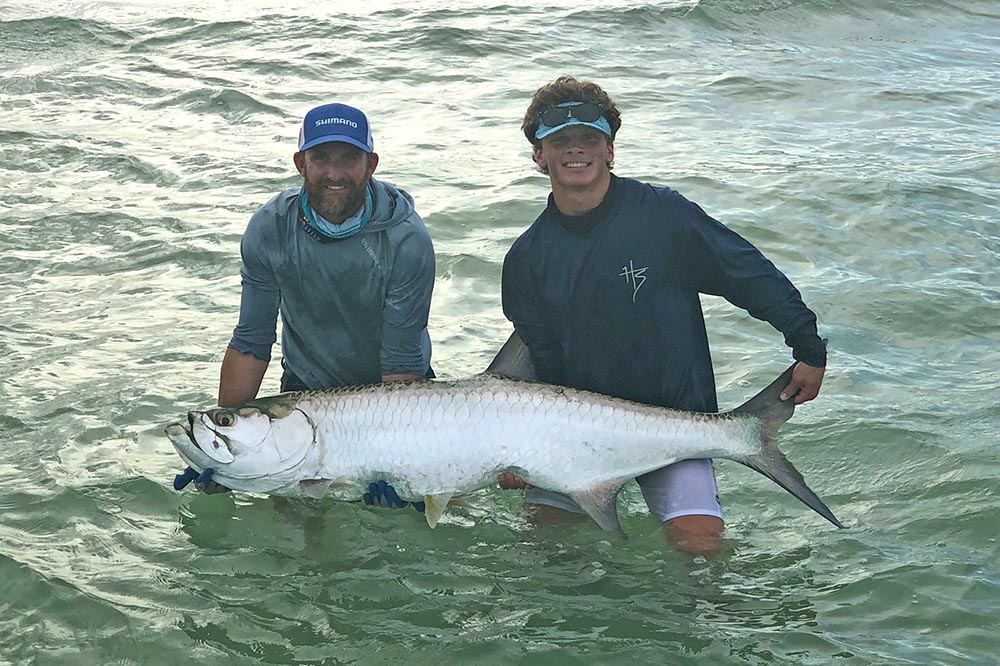 Tarpon Fishing: For Adrenaline Junkies
If thrill is what you seek, tarpon fishing might be up your alley. Known as "the silver king" due to its majestic appearance and fighting spirit when hooked, tarpon fishing provides exhilarating action on light tackle amidst beautiful surroundings – it's nothing short of a bucket list experience.
What You Can Expect on Your St. Pete Fishing Trip
A fishing trip in the vibrant waters of St. Petersburg, Florida is more than just a pursuit for fish; it's an adventure filled with surprises and unique experiences.
With charters like Rock Bottom Sportfishing leading your journey into Tampa Bay, you're sure to encounter unexpected delights around every corner, whether you're casting off from St. Petersburg, FL or venturing further out towards Tampa Bay.
Nature's Showcase: Wildlife Encounters
The attraction of these fishing trips extends beyond the plentiful catch – there lies a thriving ecosystem that showcases nature at its best. As you navigate through these waterways, expect frequent visits by playful dolphins who call this region home.
Bird enthusiasts will be happy too. The shores and islands along Tampa Bay are frequented by diverse avian species, including pelicans, ospreys, and even bald eagles, during certain seasons.
Catch Of The Day: Hooking Your Prize
Your potential haul varies with each expedition depending upon factors such as seasonality and charter type – be it inshore, nearshore, or tarpon expeditions offered right here in St. Pete, Florida. From snook to grouper or kingfish, what awaits at the end of your line can vary wildly.
You'll have expert guidance throughout courtesy of our seasoned captains, whose deep knowledge about local aquatic life makes each successful reel-in all the more rewarding.
Tips for First-Time Anglers
If you're just dipping your toes into the exciting world of fishing, don't fret. Here are some essential tips to help make your first charter trip in St. Petersburg, Florida, a memorable one.
1. Basic Fishing Techniques
The key to success on any fishing adventure lies in mastering basic techniques such as casting and reeling effectively, safely unhooking fish, and knowing how to use different types of bait. Take Me Fishing's comprehensive guide is an excellent resource that provides detailed explanations suitable for beginners.
Baits play a significant role too; live baits like shrimp or minnows work well when taking kids fishing around St. Pete's inshore waters, while artificial lures may be more effective targeting specific species.
2. Select the Appropriate Gear
Your choice of gear can significantly enhance your overall experience during the charter. While most charters provide necessary equipment, it's still beneficial to understand their function. Rods vary based on length and strength designed to cater to different fish species; reels control line tension during battles with hooked fish; hook sizes and shapes depend upon the targeted catch; line strengths (measured in pound test) differ according to expected weight catches. Familiarize yourself with these basics to ensure smooth sailing throughout the journey.
4. Respect Local Regulations
Prior to embarking on any chartered boat excursion in the Tampa Bay area, including St. Petersburg, FL 33713, acquainting oneself with local regulations is a crucial aspect of the planning process. This includes being aware of bag limits (number of fish allowed to keep), minimum size requirements for certain species, closed seasons, etc. Remember: A valid fishing license is required if you are not aboard a chartered vessel.
5. Maintain Respect For Nature
Last but not least, respect the environment shared by countless creatures big and small. It is important to follow practices like "catch-and-release" whenever possible, and dispose of waste properly.
For a successful first-time fishing charter in St. Pete, master basic techniques and understand your gear. Familiarize yourself with local regulations, including potential need for a license if not on chartered trips. Always respect nature by practicing catch-and-release and proper waste disposal.
Making Reservations & Preparing for Your St. Pete Fishing Trip
Embarking on a fishing trip in the vibrant waters of St. Petersburg, Florida is an exhilarating prospect that requires some crucial preparatory steps.
The initial step involves securing your reservation with your chosen charter service like Rock Bottom Sportfishing or another reputable operator within the Tampa Bay area. Thanks to modern technology, this process has been simplified through online booking systems.
Simply navigate to their website and choose from available dates and packages tailored to meet various angling needs – be it nearshore, tarpon, or other expeditions. Payments are usually processed via credit card, ensuring quick confirmation of bookings.
Packing Essentials for A Successful Day at Sea
Your spot aboard one of these highly sought-after charters is now secure; next comes preparing what you will bring along with you during your adventure out into the azure depths surrounding St. Petersburg, Florida 33713 region.
Besides personal items such as sunblock, comfortable clothing suitable for maritime conditions, and protective gear like hats and sunglasses; alongside any desired snacks and drinks.
Fulfilling License Requirements: One Less Thing To Worry About.
When venturing out under the guidance of professional guides from reputed establishments like Rock Bottom Sportfishing, they cover all licensing requirements as part of their commercial license – implying guests aren't required to obtain individual licenses themselves while onboard.
Keeping Kids Engaged During The Trip
St. Petersburg, Florida is not just about the catch; it's a unique opportunity to create lasting memories with your kids while fostering their love for nature and outdoor activities.
This means teaching them how to bait hooks, cast lines, reel in fish, and even clean up at the end of the day – all essential parts of an authentic angling experience.
Fishing Charters: A Fun Learning Experience For Kids
Rock Bottom Sportfishing, known for its child-friendly excursions around the Tampa Bay area, offers fun games or competitions like 'catching the biggest fish' or 'first one to reel', keeping young anglers engaged and excited on board.
Educational Opportunities Abound On Fishing Trips
Taking kids fishing also presents numerous educational opportunities as they get hands-on lessons on marine biology when encountering different types of sea creatures from colorful fish caught during their trip down to tiny organisms seen underwater. This exposure helps broaden the knowledge base, instilling respect towards our environment among the younger generation.
Safety Measures To Ensure A Worry-Free Experience
All reputable charters prioritize safety measures, including providing appropriately sized life jackets for everyone aboard and thorough briefings before setting sail, ensuring peace of mind so you can enjoy your outing without any worries.
Frequently Updated Reports & News
St. Petersburg, Florida, staying informed about the latest updates and news from local charters like Rock Bottom Sportfishing is key.
Tampa Bay Fishing Updates: Your Guide To What's Biting Now
The pulse of the St Pete fishing scene can be found in regular Tampa Bay Fishing Report updates. These real-time accounts offer valuable information on current conditions, including water temperature trends and bait availability.
But it doesn't stop there.
You'll also find expert advice tailored specifically to what's happening right now – whether it's choosing tackle or learning techniques best suited for current conditions.
FAQs about St. Pete Fishing Charters
What types of fishing charters are available in St. Petersburg?
In St. Petersburg, you can find a variety of fishing charters including inshore, nearshore, tarpon, and deep sea adventures.
How experienced do I need to be for a fishing charter in St. Petersburg?
No matter your skill level, there's a suitable charter for you in St. Petersburg – from beginner-friendly trips to expert-level expeditions.
What is the cost of a fishing charter in St. Petersburg?
The cost varies based on factors like duration and type of trip but typically ranges between $400-$1200 per day.
Is it possible to book multiple days on a single fishing charter in St. Petersburg?
Absolutely. Many providers offer multi-day trips that allow anglers more time out on the water pursuing their catch.
Book Today
Embarking on St. Pete Fishing Charters is an adventure like no other.
You've discovered the rich history and diverse marine life that make these waters a prime fishing destination.
The seasoned captains, their deep knowledge, and their passion for fishing have been unveiled to you.
Inshore, nearshore, or tarpon – each type of charter offers its unique thrill.
Understanding when to catch popular species has added another layer of excitement to your upcoming trip.
You now know how easy it is to choose a suitable package, reserve your spot online, and prepare for the journey ahead.
Are you ready to experience the most thrilling angling expedition ever? Let's reel in some memories together!