Last Updated on October 17, 2023 by Eric
Indian Rocks Beach isn't just a place; it's a top-tier fishing destination. This area, comfortably situated along Florida's Gulf Coast, serves up some of the best angling spots you could ask for. What's on the menu? A whole lot of variety. We're talking about the kind of place where casting a line could mean catching anything from redfish cruising the flats to snook hiding out in the mangroves, not to mention the tarpon making waves offshore. It's a fisherman's jackpot, and it's got something for everyone, no matter your style or favorite catch.
Right in the thick of this angler's haven is where you'll find Rock Bottom Sportfishing holding court. These guys have been around, and they know their stuff. Captain Brett isn't just someone who's turned fishing into a career; he's made it a craft. He and his team are out on these waters day in and day out, which means they've got the kind of know-how you can't find in books or online. They're a part of this place, and it shows in the catches their clients reel in.
But Rock Bottom Sportfishing isn't about hoarding secrets. They're in it to share the wealth, making sure everyone who comes aboard leaves a better fisherman. It's more than just chartering a boat; it's learning from the best in the business right where the action is. Whether you're local or visiting, they're the folks you want to know in Indian Rocks Beach if fishing is what you're here for.
Why Choose Rock Bottom Sportfishing Near Indian Rocks Beach?
Deciding where to charter your next fishing trip near Indian Rocks Beach? Well, Rock Bottom Sportfishing should be your top contender, and here's the straight talk on why:
First off, location is everything. These waters are brimming with some of the best catches you could hope for, and Rock Bottom is smack in the middle of it. The team doesn't need to venture far to hit the sweet spots, which means more fishing, less traveling. Whether it's the backcountry waters or the deeper spots offshore, they know where to be and when.
Now, about the crew. These aren't weekend hobbyists; they're seasoned pros. Captain Brett has been mastering these waters since 2001, and his knowledge of the local fish species and their habits is second to none. What does this mean for you? You're not just baiting hooks; you're getting insights. You'll learn techniques that can only come from someone who's been there, done that, and caught them all.
But what really sets Rock Bottom apart is the experience they offer. This isn't some run-of-the-mill, "let's just catch fish" kind of deal. They're committed to making each trip unforgettable. You're not treated as just another client; you're an angler, a friend. They're all about sharing stories, teaching you the ropes, and maybe even sharing some of their secret spots.
And safety? Top of the list. Captain Brett ensures everything's up to code, the gear's in check, and conditions are right. You can kick back and focus on the fishing, knowing you're in good hands.
So, Rock Bottom isn't just another charter company. They're the folks who turn a day of fishing into a memory you'll want to relive. And that's worth more than any trophy catch. Well, almost.
Types of Fishing Adventures Offered
Fishing isn't a one-size-fits-all kind of deal, especially around Indian Rocks Beach. Different anglers have their preferences, and different fish call for different approaches. That's why having a variety of fishing adventures to choose from is crucial. Here, we break down what you can expect from each type, starting with inshore fishing.
Inshore Fishing
If battling giant fish in deep waters isn't quite your speed, or maybe you're just looking to mix things up a bit, inshore fishing offers a whole different game – a bit more relaxed but no less exciting. Around Indian Rocks Beach, the inshore scene is alive and kicking, offering a diverse playground for anglers of all stripes.
The real charm of inshore fishing? It's all about using a bit of strategy. You're navigating shallower waters, stalking fish in their natural habitats. You've got mangroves, grass beds, and shallow flats – these areas are bustling with life, and they're where fish like to feed, hide, and hunt. It's like stepping into an underwater version of hide-and-seek.
Now, for the stars of the show: the fish. Redfish are a big deal around here, known for their fight and their size. They're the kind of catch that gives you a story to tell. Snook are crafty, often hiding around structures, making them a fun challenge. And the trout? They're around, too, adding variety to your trip. Each of these species calls for different techniques, and there's nothing quite like the satisfaction of outsmarting them in their own backyard.
But here's the kicker: you're not just blindly casting and hoping for the best with Rock Bottom Sportfishing. Captain Brett and his crew have these waters mapped out in their minds. They know the habits of these fish, understand where they're likely to be, and, more importantly, they know how to help you reel them in. It's one thing to fish; it's another to fish smart. And that's the kind of experience you get with inshore fishing here. It's not just about the catch – though, don't get us wrong, that's a thrill in itself – it's about learning the hows and whys of the sport, and maybe, just maybe, getting one step closer to thinking like a fish.
Nearshore Fishing
When folks talk about nearshore fishing, they're talking about that sweet spot between deep-sea fishing and casting off from the shore. It's that perfect middle ground where you get a bit of both worlds — the thrill of bigger, more aggressive bites and the comfort of seeing land, which is always a plus, especially for the greenhorns among us.
In the waters off Indian Rocks Beach, nearshore fishing means you're dealing with a whole different set of fish, and let me tell you, they're worth the hype. You've got your kingfish, for starters. These guys are the sprinters of the sea, famous for their lightning-fast runs. It's you versus them, and it's a rush. Then there's the mackerel, similar vibe to the kingfish but with a bit of a mean streak — they're known to put up a serious fight.
But that's not all. The nearshore waters here are also rich with cobia, hogfish, and even the occasional grouper, depending on how far out you go and the time of year. Each of these fish brings something different to the table, whether it's the cobia's brute strength or the hogfish's knack for being one of the trickiest catches around.
And here's where Rock Bottom Sportfishing shines. They know these waters, and they know these fish. Captain Brett and his team have years under their belts, learning the patterns of these species, understanding where to find them, and figuring out how to make them bite. When you're out on their boat, you're not just trolling the waters; you're in the hands of people who have turned fishing into an art form. They're there to give you tips, sure, but more than that, they're there to give you a proper introduction to what nearshore fishing really means: the strategy, the patience, and the payoff when you feel that tug on the line.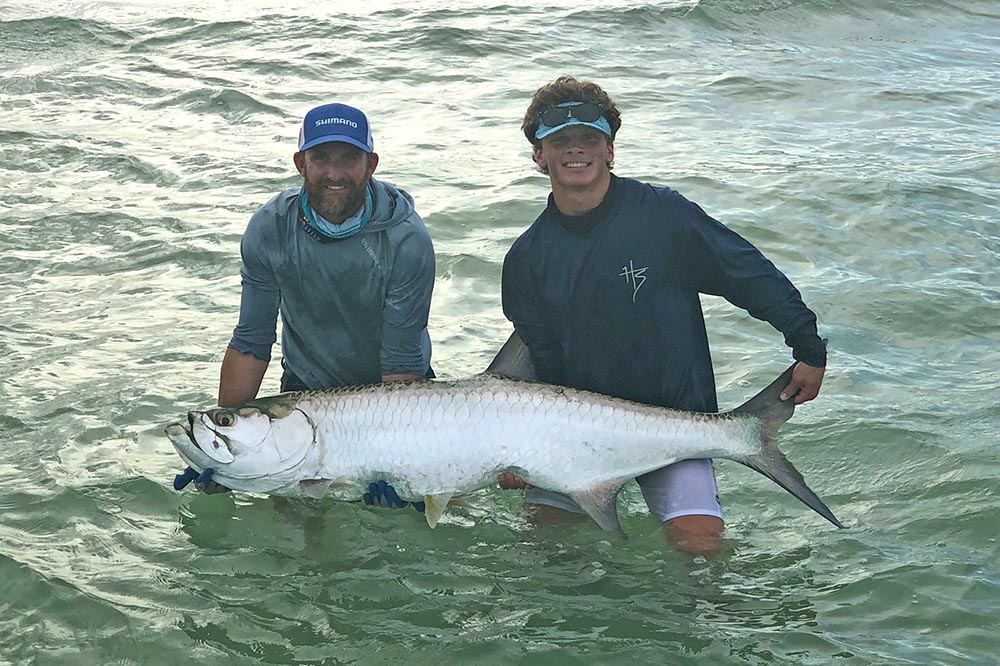 Tarpon Fishing
Let's talk tarpon. These fish are the heavyweights of the fishing world, the kind that you tell stories about. They're big, they're tough, and they've earned themselves a nickname that sticks: the Silver King. Why? Because hooking one is the underwater equivalent of a royal rumble. These giants of the deep are notorious for their acrobatics and willpower. When you've got a tarpon on the line, you know you're in for a battle.
Tarpon don't just hang around all year, though. They're seasonal visitors to the waters around Indian Rocks Beach, with the best times to catch them being in the warmer months. We're talking late spring through summer, right up until the end of July. That's when these behemoths are passing through, and let me tell you, there's nothing like it.
Now, if you're set on bagging a Silver King, you don't want to leave it up to chance. You'll want the best in the biz by your side, and that's where Rock Bottom Sportfishing comes in. Captain Brett has been on these waters for years, and he's got a sixth sense when it comes to finding tarpon. He knows the spots, he knows the tricks, and he's got a track record to prove it.
But it's not just about getting the fish on the hook. It's about the whole experience. Tarpon fishing is a team sport, and the crew at Rock Bottom Sportfishing makes sure you're not just a spectator. They're in it with you, from the first cast to the moment you've got your photo op with that glistening giant. It's about the rush, the stories, and the kind of fishing that you can't help but want more of. With these folks, you're not just chartering a fishing trip; you're signing up for the kind of day you'll be talking about for years.
Booking Your Charter with Rock Bottom Sportfishing
Ready for some serious fishing action? Booking your trip with Rock Bottom Sportfishing is a breeze. Here's how you get on board:
First, head over to the online reservation request form. It's straightforward, asking for the basics — your name, contact info, and preferred fishing dates. Fill that out, hit send, and Capt. Brett himself will circle back to you to hammer out the details. If your fingers are itching to reel in some big ones sooner rather than later, give Capt. Brett a call directly. He's good with making things happen on the fly.
Now, choosing your charter is where you get to call the shots. You know what kind of fishing gets you going, and that's exactly what you can sign up for. Whether it's inshore, nearshore, or going toe-to-toe with tarpon, Rock Bottom's got a charter with your name on it. Each trip is tailored to your fishing dreams, making sure you're hitting the water at the right time and the right place.
So, what's in store when you step on the boat? Everything's set up for a top-notch experience. The gear's all provided — rods, reels, and rigs that can handle whatever bites. As for the duration, that's up to you. Whether you're up for a half-day jaunt or a full-day adventure, they've got you covered.
And remember, this isn't about just catching fish; it's about fishing smarter. You'll learn from the crew, pick up on the subtle art of angling, and, who knows, maybe even out-fish the veterans. But no pressure, of course. The main aim here is to have a good time, soak in the sea air, and enjoy the thrill of the catch. Because at the end of the day, fishing with Rock Bottom Sportfishing is about more than just filling the cooler; it's about the whole experience from start to finish.
Tips for a Successful Fishing Trip with Rock Bottom
Getting ready for your fishing adventure is part of the fun, but a little prep goes a long way. Here's a quick checklist to consider before you board: sunscreen, sunglasses, a hat, light layers (the weather can flip on a dime), and a camera because you'll want to capture the memories.
While Rock Bottom's got the major gear covered, feel free to bring your lucky fishing gloves or any personal gear you can't fish without. Oh, and don't forget snacks and drinks to keep your energy up.
Once on board, the real tip for success is to lean on the Rock Bottom crew's expertise. These guys are on the water day in, day out, and there's no question or concern too small. They're there to help you up your game, whether it's by showing you a new knot, advising on the best way to cast in these waters, or sharing the signs they look for in a good spot.
Remember, every pro was once a beginner, and fishing's one of those things where there's always something new to snag onto. So, keep an open mind, ask questions, and most importantly, enjoy the ride. After all, there's no day on the water that isn't a good day.
Conclusion
In the world of fishing near Indian Rocks Beach, Rock Bottom Sportfishing stands out as a true angler's ally. They're not just about guiding you to the fish; they're about enriching your whole experience. From the moment you step on the deck, it's clear you're in capable hands, with a crew that respects the sea, knows the fish, and values every guest's experience.
Ready to cast into action? Don't let the big one get away. Reach out to Rock Bottom Sportfishing and secure your spot today. It's more than a fishing trip; it's the start of a great story.